Help Im Alive - Metric
So sleepy after a 7 hour day devoted to trains and buses. A lady sitting next to me on the r2 smelled like she had inhaled bags of trash that were slowly rotting on her back teeth. She (of course,) had a very breathy whistle and a mustache that I swore was swinging in the breeze. Also had a Mormon ask me if I was "visiting," and when I replied "not really, I take the train from Delaware to Philly then the bus to my boyfriends in Scranton,Pa," he looked disappointed and said "my girlfriends a dumbass, she could never do that," how sweet.
Finally home, in bed alone. I ate takeout and fed the leftovers to my dog, procrastinating as usual. I work well under pressure but can't proofread anything I write but I guess that's what an editor is for. I finally unpacked and was a little sad, until I realized my boyfriend's mom packed these in my bag :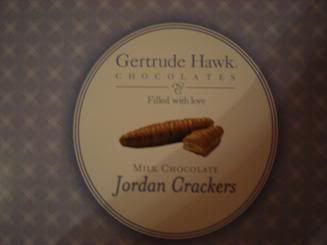 Gertrude Hawk chocolates are a North Eastern Pennsylvania delicacy. Jordan Crackers (pictured above,) although they unfortunately resemble wrinkled chocolate penises (yum,) they are DELICIOUS. I have already eaten enough for a small army so I'm closing the box and leaving the rest of the chocolates for "my family."
Now I'm off to put on my headphones and fall asleep to my current play list
(nobody cares,)
"You'll only be famous in the underground."
1. No Sympathy - Life of Agony
2. L-O-V-E - Al Green
3. No I in Threesome - Interpol
4. Come on in - Darc Mind
5. Ten Cent Blues - Eisley
6. Family Tree - Belle & Sebastian
7. 21st Century Pop Song - Hymies Basement
8. Help I'm Alive - Metric
9. Knights - Crystal Castles
10. Champion Sound - Jaylib
11. Livin Proof - Group Home
12. Puppy Love - JVC Force
13. Bands with managers - Pedro the Lion
14. Young Bridge - Land of Talk
15. Fuck your attitude - Warzone
16. We're the crew - Warzone
17. You've got her in your pocket - The White Stripes
18. Miss Ohio's Nameless - WHY?
also check me out (tomorrow,) for my 2nd debut on http://sixsentences.blogspot.com/